Dr. Ann Wellness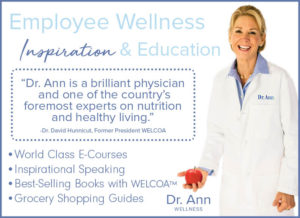 World-Class E-Courses: Licensing Dr. Ann's online programs through her Healthy Living School is the next best thing to having her right in your corporate headquarters or workplace. These turnkey, user-friendly courses are convenient for wellness coordinators and engaging for employees. We even provide extra resources to help increase participation throughout your license period! Individuals may access the courses from any device, in any location, at any time to learn the latest science in Dr. Ann's signature teaching style. Her e-courses are designed to guide and inspire your employees take charge of their health, resulting in an improved wellness culture for your entire organization.
Speaking: Have Dr. Ann deliver a life-changing presentation to your audience. With electrifying passion, she brilliantly transforms the science of nutrition and healthy living into keynotes that are simple, fun, delicious and ultra-practical. Your audience will be wowed by her expertise, moved by her energy, and inspired to take action now.
Books: Order Dr. Ann's award-winning, best-selling books to lead your employees to optimal health. Hundreds of North American organizations, including some of the country's leading medical centers, have used her Eat Right for Life® books. "You do a wonderful job of explaining difficult and complex science in a way that people can understand." – Lauren H., Charleston, S.C.
Grocery Guide Licensing: Dr. Ann knows that most of the work of healthy eating is done right in the grocery store. She has totally scripted this critical step to optimal health with her customized Grocery Shopping Guides. License digital access to one or more guides. There are 16 in total including Eat Right for Life, Anti-Inflammatory, Heart Health, Healthy Metabolism, Weigh Less for Life, Type II Diabetes, Brain Health, Healthy Cholesterol, Healthy Heart, Healthy Pregnancy, Eye Health, Just Say Whoa! to Cancer, Just Say Whoa! to Colon Cancer, Healthy Breast, and Bone Health. (Alternatively, you may purchase a bulk order of physical, laminated copies for your group!)
Free Resources: Dr. Ann's website, DrAnnWellness.com, is at the heart of her efforts to help others experience the joys of healthy living. There, anyone can join her free Live Life Now Community where they will receive weekly e-mail inspiration from her popular "Make it Happen Monday" video tips, as well as her award-winning monthly e-newsletter. She also offers a full library of additional free resources, including podcasts, recipes, and over one thousand helpful blog posts. Dr. Ann can also be found on Facebook and Instagram @drannwellness.
Email: info@drannwellness.com
Phone: 843-329-1238
Website: www.DrAnnWellness.com