Real Balance Global Wellness Services, Inc.

Wellness Mapping 360 "Wellness & Health" Coach Certification Training
This is a 32-hour course designed to educate health & wellness professionals to be wellness/ health coaches. Classes are offered live on location or via interactive webinar.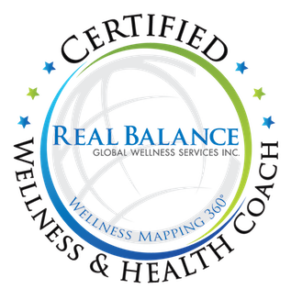 Blending the best from the wellness field with the practical and effective skill-base of coaching, Wellness Mapping 360°™ Wellness Coach Certification training gives wellness and healthcare professionals the skills they need to help their clients make lasting lifestyle change. It is a systematic wellness and lifestyle coaching process, based on behavioral change psychology, human motivation, cultural support, and professional coaching competencies.
This training has been approved for 32 continuing education contact hours for ACSM, CHES, Nurses, CDR, and approved for 37 ICF coach specific training hours. This program is an Approved Program with the International Consortium for Credentialing Health & Wellness Coaches – https://ichwc.org
– Minneapolis: May 1st – May 4th
– Colorado: June 5th – June 8th
– Orlando: October 3rd – October 6th
– San Diego: December 5th – December 8th
Webinars are ongoing and begin every couple of months.
Dr. Michael Bio
Michael Arloski, PhD, PCC, NBC-HWC is a licensed psychologist, consultant, and wellness coach with over 30 years in the wellness field and CEO of Real Balance Global Wellness Services Inc. Michael is on the Leadership Team of the International Consortium for Credentialing of Health and Wellness Coaches (ICHWC.org) and an acting Board member of the National Wellness Institute. He has presented seminars, keynotes and consultations on four continents, pursuing his mission of taking the concept of wellness worldwide. Dr. Michael is fascinated with how behavior, the environment and the human heart interact. In his book, Wellness Coaching For Lasting Lifestyle Change, he shows coaches and wellness professionals how to work with their clients to achieve lasting behavioral lifestyle change.
Dr. Arloski is founder and CEO of Real Balance Global Wellness Services INC, a company focused on educating and supporting quality wellness/health coaches. realbalance.com or 866-568-4702
Contact:
People may email Deborah@realbalance.com or give a call 866-568-4702 — 9am – 5:30pm Monday – Friday and get a live person on the telephone to answer any questions they may have or to pose a way we might be able to work together to create "Allies for A Healthy World". We love alliances that make the world a better – healthier place!