Strive Well-Being, Inc.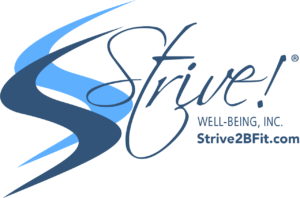 Providing on-site fitness and wellness services for 10+ years
About Strive
Strive was established in 2008 and is a nationwide fitness and wellness management company. We provide a full spectrum of on-site fitness and wellness services. Our team serves a variety of customers in the workplace wellness, community health, and government markets. Our solutions address population health management, physical activity, fitness, nutrition, stress management, strength and conditioning, injury prevention, physical rehabilitation, physical therapy, mental health, and musculoskeletal issues. Ultimately, we provide the boots-on-the-ground and can fully administer and coordinate a turnkey wellness program. As a recognized partner by the Centers for Disease Control and Prevention (CDC), our evidence-based programs improve the culture of health, increase measurable levels of engagement, and contribute to reductions in health risks. Visit our website at www.Strive2Bfit.com for more information.
Our Services
• Workplace Wellness Programs
• Fitness Center Staffing and Management
• On-site Group Fitness and Yoga Classes
• On-site Wellness Coordinators
• On-site Stress Management Programs (Mindfulness/ Meditation, MBSR, On-site Chair Massage Services)
• Musculoskeletal Conditioning Programs (Athletic Training, Physical Therapy, Therapeutic Yoga, Certified Strength and Conditioning Specialists CSCS, Stretching Classes)
• Fitness and Wellness Challenges
• Health Coaching (On-site and Telephonic)
• On-site Nutritionists and Fitness Coaching
• Educational Workshops and Webinars
• Fitness and Wellness Program Management
• Health and Fitness Screening Events
• Workplace Wellness Consulting
• Community Health and Fitness Programs
• Fitness Center Design and Development
• Hospital Fitness and Wellness Programs
Our Unique Value Proposition
• Nationwide Footprint
• Turnkey Service Delivery
• Advanced Reporting Platforms
• Reduced Administrative Burden on Clients
• Competitive Pricing Model