Universal Access to Health Promotion: A Sustainable Strategy to Reduce Health Disparities, Improve the Health of an Entire State, and Accelerate the Evolution of Health Promotion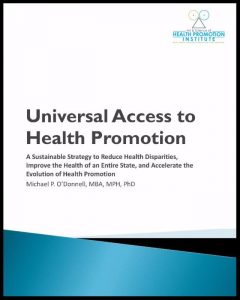 "The three pillars critical to improving the health of the residents of a state or nation are enhancing the social determinants of health, providing universal access to medical care and providing universal access to health promotion.
The missing element for most large-scale efforts is providing universal access to health promotion, even though that may be the most cost-effective method to improve the health of the people of a state and even a nation.
To do this well, we need to deliver a therapeutic dose of scientifically valid health behavior change strategies (summarized here in the AMSO Framework). Funding this effort is likely to cost 10 or more times the amount available through foundations, public charities and public health departments. Therefore, these groups need to focus a portion of their resources on mobilizing funding from entities that have sufficient resources and that will also benefit from improved health status of their constituents.
The most important contribution of this white paper may be the financial analysis that illustrates how sufficient resources might be mobilized and how the overall effort can be maintained by capturing a small portion of these funds to maintain internal operations indefinitely, and in the process, stimulate investments several hundred times the initial investment."
Michael P. O'Donnell, MBA, MPH, PhD
---
Apply the Framework to Your State

This spreadsheet provides the primary tables that will allow you to change assumptions and manipulate values so the framework can be applied to any state.
---
Share Your Thoughts
We think of this white paper as a working document that articulates a vision, a dream. We recognize that there is a huge gap between a 50-page white paper and the enormous planning, mobilization and implementation necessary to make this a reality for even one state. Therefore, we encourage readers to examine it critically, celebrate its strong elements for a respectfully short period of time and then share constructive criticism, not to tear it down, but to riff on it, to make it better.
Please share your reactions/suggestions below. We will post comments to share experience and build on the process.
---
Comments Shared
Here are a few reactions we have received so far:
"Michael O'Donnell is a leader in health promotion and its central importance for national health and wellbeing. In this paper, he provides a concrete vision for how a state and even the nation can support health promotion as an essential foundation for human thriving – and how that support would pay us all back many times over. This is a blueprint for any leader interested in advancing human flourishing in their community." – Wayne B. Jonas, M.D. Executive Director, Samueli Integrative Health Programs, H&S Ventures
"Michael O'Donnell is a fervent champion of the brutal fact that it is is infinitely more desirable to be healthy them sick. And that this choice is not about more drugs or operations or hospitals or doctors but not getting sick in the first place. Prevention is worth tons of cures and Michael is the preeminent spokesperson of this deep truth." –
Walter M. Bortz, MD, Professor of Medicine, Stanford University School of Medicine
"Few people are more knowledgeable about the American healthscape- what's working, what's not; the perils and opportunities – than Michael O'Donnell. This detailed and well-reasoned plan is the consummate blue print for doing well by doing good, an opportunity to measure gains concurrently in
years gained, and dollars saved. A meticulous plan for achieving that win-win at scale is
transformative."
~David L. Katz, MD, MPH, FACPM, FACP, FACLM, Director, Yale University Prevention Research Center Griffin Hospital, Founder, True Health Initiative